Per Thrillist; Perfect Winter Road Trips for When You Need to Escape Austin, Texas
Perfect Winter Road Trips for When You Need to Escape Austin
Luxe ranch resorts, Hill Country hikes, and all the barbecue you can eat.
Travel really is touch-and-go right now. One minute the borders are open, the next minute they're closed. Factor in delays, cancellations, and airport lines… and a vacation seems a lot less appealing this winter, doesn't it? We Austinites, however, need not worry about whether or not to upgrade from Basic Economy to Economy (woof), because just a short drive from Bat City lies a matrix of adorable weekend getaway destinations just waiting to be discovered.
Winter happens to be one of the best times to explore Texas on wheels. You can leave picnics in the trunk without cheese slices melting, hike the great outdoors and work up a sweat that's based on actual exercise, and maybe even pitch a tent without fainting (or let someone else pitch it for you, if you're the glamping sort). We've picked nine road trips all within easy reach of Austin, each offering a distinct set of vacation possibilities. So what are you waiting for? Pack up your YETI, grab a change of clothes, and let's hit the road.
Distance from Austin: 33 miles southeast; 45-minute drive
More trips to Bastrop should be every Austinites' new year resolution, because it's totally underrated yet awesome in every way. For culture vultures, it's all about downtown. Main Street is lined with funky local stores and galleries like The Painted Porch and Monarch Art Gallery, which you could easily spend hours browsing. Stop at 602 Brewing for amazing craft beer on tap with lunch, and then venture inside a 1930s fire and police station to check out the Bastrop County Museum, a local institution dedicated to the town's beginnings as a German colony. For the outdoorsy set, Bastrop State Park is where to go to marvel at the towering Lost Pines—hike through them or zip over them, depending on how much you ate at lunch. Kids of all ages will get a kick out of Dinosaur Park, where exhibits feature life-size dinosaur replicas in a natural outdoor setting (wait till you get a load of Mr Brachiosaurus). It's as close to Jurassic Park as you'll get in Texas. Then kick things up a notch by peeping some modern-day monsters at the Texas Reptile Zoo, where you'll get up close and personal with 200 species and maybe even catch a feeding. Who would have thought a 45-minute drive could hold so many treats?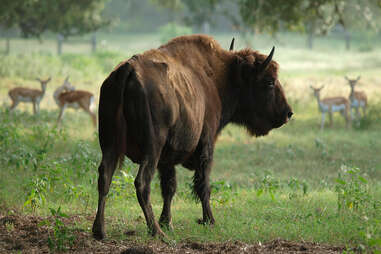 Distance from Austin: 111 miles east; 1.75-hour drive
We'll admit, for the average traveler there's not a lot to see in Cat Spring. But for the animal lover, this is four-legged heaven on earth. Our neighbors in Houston already flock to BlissWood Ranch, so why not join 'em? There, guests can rent cabins and safari tents perched throughout a 350-acre working ranch heaving with wildlife. Bison, antelope, and peacocks wander (behind a gate, don't worry) while the resident donkey herd will be at your doorstep waiting for some human TLC. Those stopping by for just a few hours can also partake in horseback riding and fishing without footing the overnight bill. On the way home, make sure to pull over at West Point's Sanctuary Serengeti to mingle with zebras, wildebeests, oryxes, and other fascinating wild beasts (note, they're currently under renovations, so call ahead before visiting)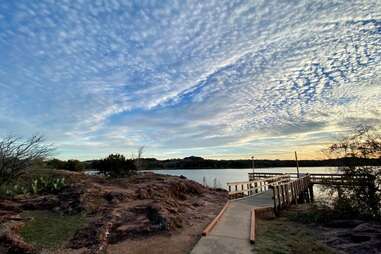 Distance from Austin: 46 miles northwest; 1-hour drive
For those that missed ice skating at Marble Falls, there's still plenty of reasons to come visit this festive Lone Star State hamlet even after the rink closes for the season. It's perfect for a half-day (anything longer might be a bit of a stretch, though). The Downtown District makes for a romantic winter stroll, complete with an all-day breakfast at the legendary Blue Bonnet Cafe that comes with all the pancakes and biscuits. In terms of outdoor draws, Inks Lake State Park remains one of Hill Country's sparkliest gems with shimmering blue waters set against a backdrop of multicolored rocks. Pick up some H-E-B enroute and turn it into a picnic.
Distance from Austin: 102 miles north; 1.75-hour drive
If you're a regular Austin to Dallas commuter, then you know Waco as the halfway point along the drive or bus route. However, the town itself is worth a day of exploration. Soda-lovers should stop by the Dr Pepper Museum, the site where the fizzy refresher got its start. It spans three floors of fascinating exhibits plus soda fountains and a gift shop. Next, take your road sodas five minutes up the road to Cameron Park, one of the largest municipal parks in Texas, and crack them open by the Brazos River or under the towering trees on a mild winter's day. The Cameron Park Zoo is cute for the kiddos, but adults might prefer getting to know the mammoths who once roamed the area instead at the Waco Mammoth National Monument. The paleontological site was added to the NPS by President Obama in 2015, protecting and promoting the fossilized Ice Age remains. Finally, grab your souvenirs at Magnolia Market downtown before skedaddling back to the big city.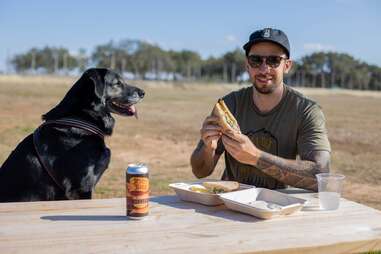 Distance from Austin: 24 miles west; 40-minute drive
Just a short jaunt outside of Austin proper, Dripping Springs is a boozy oasis home to some of the state's top breweries and distilleries. Start at Jester King Brewery, take the tour or simply sample your way through their award-winning farmhouse ales under the shade of ancient live oak trees. Just down the road, you'll find gin and liqueur producers Revolution Spirits, dog-friendly booze emporium Treaty Oak Distillery, crafty outpost Last Stand Brewing, and Beerburg Brewing, a beer hall stocked with farm-to-table food offerings. If you want a one-stop-shop destination, Dripping Springs Distilling is tough to beat. The first licensed distillery in all of Texas Hill Country, they produce artisanal vodka, gin, and bourbon in small batches using limestone-filtered spring water native to the region. Continue the party at Dreamland where a taproom awaits, then go work off those liquid calories by enjoying onsite mini-golf, pickleball, art and sculpture, live music, and more.
Distance from Austin: 80 miles southwest; 1.25-hour drive
San Antonio has always been buzzing, but over the last decade the city has undergone a seriously stylish glow-up. Spend a weekend exploring the city's offerings with a stay at the new Canopy by Hilton San Antonio Riverwalk, which, as you'll guess by name, sits pretty along the famed waters. And even if you don't stay the night, at least give the property's South Texas-inspired Domingo Restaurante and agave-forward Otro Bar a whirl. Later, check out two awesome exhibits starting with the San Antonio Museum of Art and followed by the funky immersive experience at Hopscotch. Then head to Pearl, a massive mixed-use space built using the historic bones of the former Pearl Brewery, for shopping, chowing down, or just hanging out and enjoying one of the spot's green spaces. Standout stops include Best Quality Daughter for incredible char-siu served family-style and The Bottling Department food hall's Caribbean specialist Mi Roti. Need a lie-down? Book a pamper session at the magical La Cantera Resort and Spa.
Distance from Austin: 33 miles south; 35-minute drive
Meat-lovers, behold Lockhart—AKA The Barbecue Capital of Texas—and consider making a pilgrimage to the town's many formidable 'cue destinations. Kreuz Market is enormous and stuck in time in the best way (just don't dare ask for a fork or sauce for your ribs). Pop over to Black's Barbecue, established back in 1932, for melt-in-your-mouth brisket then swing by Smitty's Market for juicy, coarse-ground sausage with just the right snap. Immerse yourself in Lockhart's boot-scootin' history with a visit to the Caldwell County Jail Museum (open weekends), admire the architecture of the historic Dr. Eugene Clark Library, or peruse antiques at Fields Stables. Last but not least, Lockhart's walkable main square offers some great food and drink options, from unfussy, comforts at Commerce Cafe and beers from historic saloon The Pearl to Little Trouble, a hip speakeasy-style spot serving cocktails and a Texas-centric menu laced with Mexican and German influences.
Distance from Austin: 38 miles southwest; 50-minute drive
Glamping, anyone? Wimberley is where it's at, a breezy 50-minute drive that feels a million miles away. And Collective Hill Country is its shining retreat, perched atop the 225-acre Montesino Ranch on the Blanco River. It's on every Austinites' bucket list right now, so get there quick if you want to dream the night away in one of their adorable (and super 'Gram-friendly) tents this season. Each one comes with all the perks of a boutique hotel, meaning you're swapping canned beans and sleeping bags for serious BBQ spreads and plush king-sized beds. Plus there's also s'mores by the campfire, a full-service bar (and hammocks for post-bar lounging), and activities like yoga classes onsite. The following day, leave your phone behind and wander over to nearby Jacob's Well (it's too cold to swim right now, but still gorgeous to look at), before browsing art galleries downtown or touring Cypress Creek Reserve Rum Distillery in pursuit of some liquid souvenirs.
Distance from Austin: 80 miles west; 1.5-hour drive
The charming village has something for everyone: German culture, natural attractions, and a boatload of locally produced wine. In fact, there are more than 50 wineries, vineyards, and tasting rooms scattered throughout the region. Kick things off at Ab Astris, a family-owned boutique winery that cranks out exceptional vintages using Texas-grown fruit. Meanwhile, Ranch Road 1 offers bike tours of the region for those itching to sweat it out between sips. Back downtown, hit up Main Street, a haven spanning 150 shops, art galleries, and boutiques, plus a vibrant and varied restaurant scene including culinary wonders like West End Pizza Company, Chase's Place Cocktails & Kitchen, Otto's German Bistro, and Granite House Lounge. On your way out of town, stop off for a hike up to the soaring summit of Enchanted Rock. The massive, otherworldly pink granite dome is said to be haunted by the spirits of Native Americans, who considered the site supernatural. Or you could also get your steps in the Vereins Kirche Museum at Marktplatz, a local landmark spotlighting the town's rich history.