Per Thrillist; Best Coffee Shops for Working Remotely in Austin
Best Coffee Shops for Working Remotely in Austin
For when you absolutely, positively need to be productive (and caffeinated).
Hands up if you've gotten so comfortable working from home that you never want to return to the office again? Join the club. Not having to change out of PJs, commute, or make small talk with Karen from finance is absolute bliss. Plus there's always the luxury of a change of scenery whenever the mood calls.
Austin is the perfect city to work from home, not only because our apartments are big and packed with amenities, but because the number of coffee shops crowded with laptops is both brilliant and bountiful. Some serve food, some serve booze, and some let you bring the pooch—regardless, all the recommendations on this list provide ample seating, power outlets and Wi-Fi, so you can get down to business with a delicious cup of joe in hand.
Downtown
We're half-hoping nobody reads this, because Good Things is Austin's absolute best secret WFH spot. Tucked away in the back of the Fairmont just left of Garrison, this little alcove is quiet outside of the morning rush, with a seating area separate from the counter so you never feel like you've overstayed your welcome. Being at a hotel cafe means you can cheekily enjoy hotel perks without needing to actually be a guest, including long opening hours, strong Wi-Fi, and a ton of tasty dining options.
Downtown
It's the most stylish coffee shop in town, but without the stuffiness. Codependent is an all-day hangout where you can recline on designer furniture until the afterwork happy hour kicks in at 4 pm. The menu is extensive, beginning with coffee, tea, pastries, and morning cocktails, and ending with an evening menu full of nocturnal treats (AKA wine, charcuterie boards, and indulgent desserts).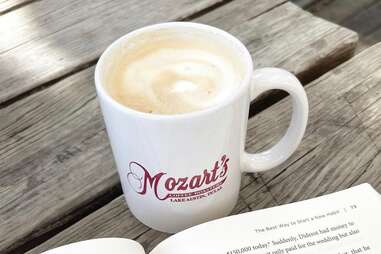 Lake Austin
In need of an escape but out of PTO days? Check out Mozart, because flipping open a laptop under the warm winter sun within view of Lake Austin is the best way to take a day off without actually taking a day off. Coffee beans are roasted in-house here, and they're great value too —for $4.65 you can go bottomless. Housemade cakes, pastries, and scones are similarly a must.
Seaholm
For a quality brew, look no further than Merit in the pretty (and ultra-clean) Seaholm District. The shop works directly with farmers in Latin America and Africa to source beans, which are then roasted on a custom-built Probat roaster in Texas. In other words, they take their beans very seriously, and the coffee only further proves it. The Seaholm branch has a lovely outdoor terrace to enjoy while scoping out the dogs playing outside Healthy Pet Austin.
Downtown
If brain fuel is your priority, then come work from Walton's. This joint is full of warm Southern charm and best known for legendary baked treats. Line your stomach at breakfast with a coffee and pastry, and look forward to building your own sandwich come lunch, complete with oven-fresh bread. A long day in the office requires generous helpings of carbs, after all.
Windsor Park
Anyone needing a solid source of caffeine amid a perfectly styled, sun-lit atmosphere will love Hank's. The all-day diner sports the epitome of Insta-cool interiors: light wood banquettes, shiny cement floors, and white walls warmed by wicker furnishings, potted plants, and splashes of peach and green. Hank's makes good use of Texas Coffee Traders' locally roasted blend, which, in addition to the usual suspects, also includes refreshing Mint Cold Brew and Nut Milk Lattes.
West 5th
The Brew & Brew is an ideal after-work spot to do... well, more just work. The coffee shop and beer bar has plenty of seating, an airy open space, and a solid selection of food, coffee, and beer, plus it's open until midnight every night of the week. Patrons can count on caffeinated classics made with a rotating selection of beans from top roasteries like Flat Track and Heart Roasters, alongside a list of stellar craft beers on tap.
West 5th
Better Half does everything well. Come by any time of day for great food, great coffee, great cocktails, a killer selection of beer and wine, and ample parking. AM hours call for espresso, cold brew, and tasty out-there drinks like a Cinnamon and Cardamom Latte. Folks who do their best work after standard working hours will appreciate the cafe's boozy offerings, like natural wine sold by the glass and bottle, plus creative cocktails and local beer.
South Austin
Radio Coffee & Beer is a great place to hunker down and get things done with a cup of liquid motivation at one of the spot's shady outdoor tables. The ever-present parade of patio pups means you'll have no shortage of furry distractions, should you need a break, and it also happens to be a legit South Austin food and drink destination. In addition to coffee classics from small-batch roasters, it's home to a strong cocktail menu and some of Austin's best food trucks by way of Veracruz All Natural and DEE DEE.
South Congress
This cafe inside the South Congress Hotel is a bright, welcoming space dominated by colorful Mexican tiling and the hypnotic smell of fresh baked goods (both sweet and savory) prepared by the hotel's executive pastry chef. While it can get pretty packed at peak times, the benefit of setting up at Mañana is that your meeting can easily migrate to the modern courtyard or lobby bar for additional seating. Try an Iced Japanese Flash Brew paired with one of the bakeshop's famous Kouign Amann, a sweet, flaky, and buttery French pastry.
East Cesar Chavez
Flat Track's owners are obsessed with all things vintage and wheeled, so it makes sense that they share their industrial modern space bike shop Cycleast. Grab a shot of espresso or pour-over made with Flat Track's house-roasted beans while browsing the bicycles for sale. Or sit on the adjoining patio while you sip on a Chingona (horchata and Mexican mocha with a shot of espresso) as you mull over that email you've been putting off all week.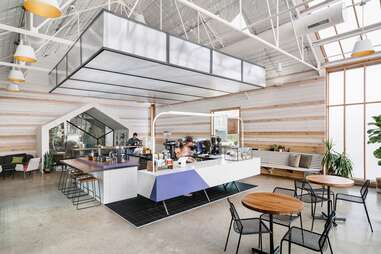 East 5th
Greater Goods' East Austin flagship location is gorgeous, a former automotive shop stripped bare and re-clad in matte black and translucent panels. The space features indoor and outdoor seating options, as well as a particularly cozy reading nook with a view of the inhouse industrial roaster responsible for the beans sold and brewed here. Greater Goods' business model is based on giving back to local nonprofits like Central Texas Food Bank and Austin Pets Alive, so you can get a buzz and feel good about it, too.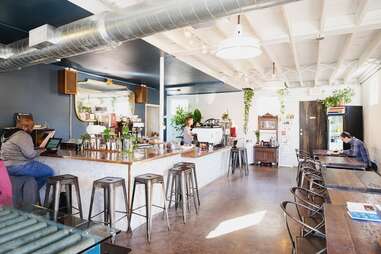 East Austin
While there are plenty of design-forward coffee shops in Austin, Figure 8 manages to strike a balance between aesthetics and authenticity. Open since 2014, Figure 8 was one of the first coffee outlets to cater to discerning Eastside residents, serving drinks brewed with beans sourced from lauded small-batch roasters and staging a shiny La Marzocco Linea espresso machine as the shop's focal point.
Webberville Rd
This tiny, angular outpost in East Austin has the best multi-roastery selection in town, hands down, pulling from a variety of coffee operations all over the country. There are staples like Wild Gift and Sweet Bloom, plus limited-time oddballs from roasters using innovative techniques with unique beans. Order a Kalita Pour Over from the friendly, knowledgeable crew and taste the magic for yourself.
East Austin
LeverCraft is part coffee shop and part coffee museum. Owner Eric Mann collects and restores vintage lever espresso machines from Italy and Spain, even offering some for sale out of his silver Spartan trailer. He melds the love of old and new with a high-tech Decent Espresso machine that's digitally profiled to provide fine control over details like the temperature, timing, and pressure of each shot, resulting in an outpouring of quick and ultra-consistent single-origin espresso.